The Cardiopulmonary Rehab Nassau County, NY Recommends
Cardiopulmonary Program
Breathe a little easier with the Lynbrook Restorative Cardiopulmonary Program. Whether you are suffering from a chronic lung or acute pulmonary condition, we are well-equipped to create a rehab plan that accommodates your needs.
Our cardiopulmonary rehab in Nassau County, NY is expertly designed to help you live your life to the fullest. The specialized team will formulate personalized goals to help you succeed. Contact us today to learn more about how our program can help you live your best life.
Therapy Open Seven Days a Week

On-Site Pulmonary Rounds

Personalized Programming
Pulmonary Education

Nutrition Education

On-Site Respiratory Therapist
Our Cardiopulmonary Goals
At Lynbrook Restorative, it is our goal to help our patients pursue active, productive lifestyles, despite any physical limitations they may have. Our cardiopulmonary rehabilitation program is overseen by a multidisciplinary team of specialists with expertise in a variety of pulmonary conditions.
The Medical Director of our Pulmonary Program is Dr. Frank Coletta.
Better Breathers Support Group:
Meets the last Monday of every month, 9:00 am via Zoom.
>> Join Zoom Meeting
Meeting ID: 899 1975 5244
Passcode: 212022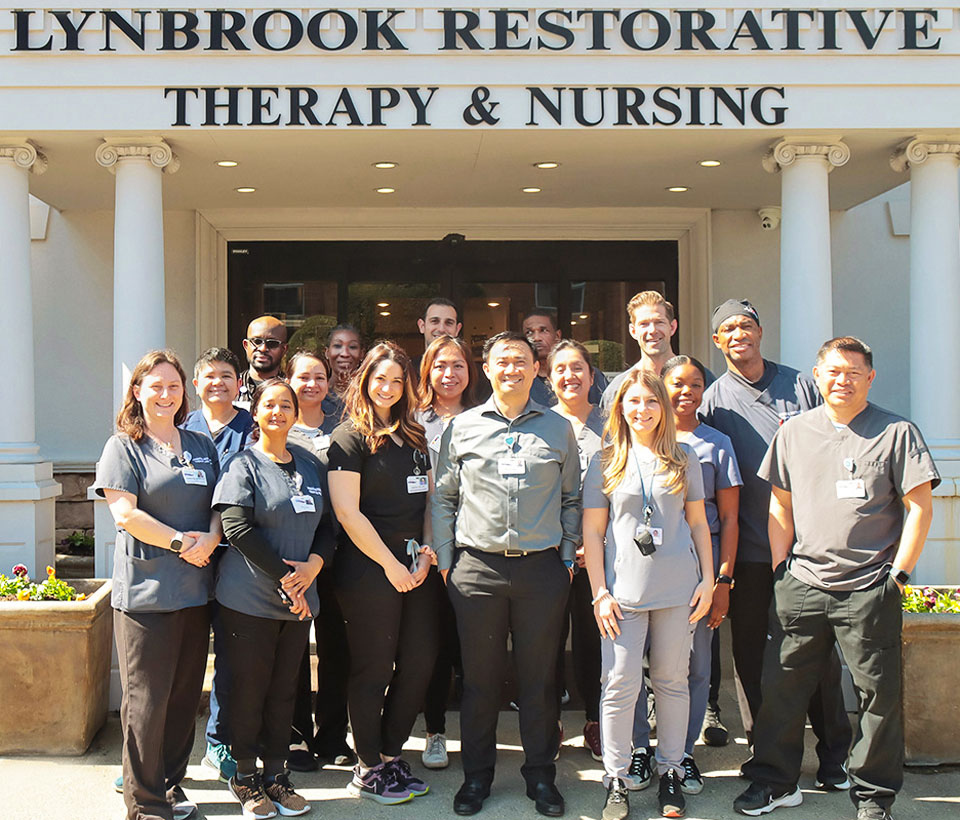 Our Staff Includes:
Pulmonologists
Respiratory Therapists
Physical Therapists
Occupational Therapists
Speech Therapists
Participation in the Cardiopulmonary Program will allow you to:
Improve your lung function
Reduce and minimize your symptoms
Make daily activities easier with less shortness of breath
Increase your exercise tolerance, including strength, endurance, and independence
Increase participation in physical and social activities
Develop strategies for daily living
Reduce hospital admissions
If you are in need of post-hospitalization cardiopulmonary rehab, we can help to improve your quality of life. If you have any questions or concerns, don't hesitate to contact us and one of our qualified team members would be happy to address them with you.
Contact Us

I can't say enough positive things about Lynbrook Restorative. The staff is so patient and caring. My father has been there for a few months and they have taken such good care of him. It is always clean and everyone is very friendly. If you need a place for your loved one, this is the best place!

Both my mother-in-law & father-in-law were short term residents at Lynbrook Restorative Therapy on 2 separate occasions – they loved the nursing staff and received excellent therapy. Lynbrook got them back on their feet and back to their own home.

My mother was at Lynbrook restorative for 2 weeks, what a wonderful facility. The staff was so accommodating and loving. Lynbrook's atmosphere was a family feel as opposed to a hospital clinical feel. The administrator was easily accessible.

My husband received amazing care here! Staff was so caring, clean rooms, very friendly. They even have a small bakery/cafe with free cookies/cakes. I would definitely recommend this rehab.

I put my father in Lynbrook Restorative. The staff is very good; they are very caring and attentive. I didn't taste any of the food, but it smells good. It is very clean, and there are lots of activities. They have performers , they have pet visits from their pet therapy…